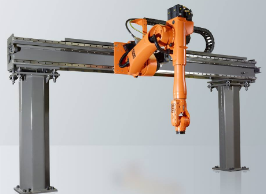 KR 30 JET
Xuất sứ: Germany
Nhà cung cấp: Pitesco vietnam
Hãng sản xuất: KUKA
Liên hệ tư vấn

Ms Thanh

thanh@pitesco.com
0914.432.418
hongthanh86
KR 30 JET
The KR 30 JET robot system consists of a linear axis, a jointed-arm robot and the JET TRACK axis module. You can adapt this automation system to the specific requirements of your production process thanks to the possibility of overhead or side mounting and the variable design and length of the linear unit.
The KR 30 JET allows for flexible automation of machine tending and material handling tasks covering distances of up to 30 meters. A wide range of gantry variants and a specially adapted linear unit ensure that both speed and workspace are maximized.
The modular structure of the KR 30 JET makes it possible to execute individual user- and task-specific program sequences. By deploying up to two robots on the JET traversing axis, it is possible to tend several machines or positions at the same time and to optimize the production process.